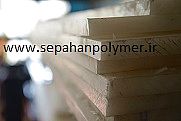 Polypropylene (PP)
Not only the mechanical properties but also its acid and alkali resistance are superior to polyethylene, As a result, they are widely used in chemical industries that need materials with moderate resistance.
Product strengths:
· High quality chemical properties
· High tensile strength polyolefin
· Low specific gravity
· Suitable for easy machining and welding
· Good stability to temperature
Product weakness:
· Inferior thermal and mechanical properties in comparison with other engineering polymers, e.g. tensile strength, flexural and compactness
· Tougher than PE but less resistant to impact
Applications:
Mechanical: Used for mechanical components in corrosive conditions and has better tensile strength than HDPE. Good dimensional stability, high heat resistance.
Electrical: Excellent dielectric and weather stability are particularly suited to electrical applications.
Chemical: Widely used in chemical industries due to high resistance to acids and alkalis. Higher heat toleration make it a better option than PVC in this industry.
Used in galvanizing and petrochemical industries for production of flanges, valves and gears, etc.
Food contact: Food contact approved.