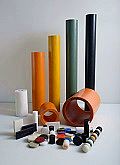 Polyamides (PA)
These are classified into 2 types according to the method of production: cast & extruded. E.g. PA Mo, PA GF, PA oil, PA 12, PA 11, PA 66, PA 6
Product strengths:
· Good wear resistance even in demanding environments
· Tensile and compressive strength: Cast is tougher and more fatigue resistant than Extruded.
· Self-lubricating and low friction coefficient, so particularly suited for sliding applications
· Weatherproof, ageing resistance
· Good resistance at low temperatures
Product weakness:
· Both cast and extruded types are hydroscopic
· Cast PA has higher fragility than extruded
· It is advisable to use cast type for large dimensions because of its molecular structure and better quality
Applications:
Mechanical: due to the possibility of producing large-size pieces, widely used in large diameter gears, earrings, pulleys, wheels and anti-wear guides.
Electrical: Electrical properties may be affected by humidity adsorption.
Chemical: It has good mechanical stability against organic solvents, fuels, acids and alkalis.
Food contact: Generally, it is not used in contact with hot foods.