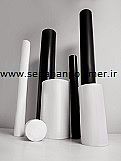 Polyoxymethylene (POM)
This is a crystalline polymer, obtained from polymerization of formaldehyde and commonly called Acetal.
Increasingly used in industry due to excellent mechanical properties, humidity resistance and easy machining. Both homo-polymer and co-polymer types are available in the market. Their general features are the same but they have different service temperatures under load and hydrolysis. In fact, H has higher thermal resistance under pressure but is less resistant to hydrolysis and alkali than co-polymers.
Product strengths:
· High wear resistance
· Good dimensional stability
· Low friction coefficient
· Impact and compaction resistance even at low temperatures
· Easy machining, especially on auto-machines
Product weakness:
· Lower abrasion resistance in comparison with PA 6, particularly in dirty and dusty environments.
Applications:
Mechanical: One of the most commonly used engineering polymers in mechanical applications that need dimensional stability and tight tolerance, e.g. bearings, earrings, low torque gears, gear wheels, conveyor belts and precision machined components.
Electrical: Widely used in insulation due to dehumidifying properties.
Chemical: Resistant to alkali and organic materials, suited to pumps, flanges and chemical plant equipment.
Food contact: Physiologically inert, therefore suitable for food contact. Can be used in water at 80 °C.